About Elena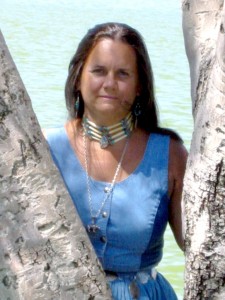 Elena Skyhawk is a Shaman's Touch Healing Master Teacher, LaHo Chi Practitioner/Teacher, and Reiki Master Teacher. She is also an ordained minister through Golden Eagle Ministries of Arizona and International Metaphysical Ministry. Elena studied for several years with Serge "Runningwolf" Martel, a shaman of Mohawk/Hawaiian heritage.
She also realized she had healing abilities and the neighborhood children would come to her when they hurt themselves.
It wasn't until her late twenties when she met a Kahuna (Hawaiian shaman) that she realized what all the "weird" things were that she could do. Under this Kahuna she learned about her connection to Mother Earth and that we are all related.
Several years later she met her mentor, Serge "Runningwolf" Martel, a shaman of Mohawk/Hawaiian heritage. Under his tutelage she learned even more about who she was and what gifts flowed through her ancestry. She trained to become a Shaman's Touch Master Teacher and became a minister in Golden Eagle Ministries, Int.
Elena has also become a minister through I.M.M. And also holds a Bachelor's Degree in Metaphysics through IMM. She is a Doctoral Degree candidate through the University of Sedona.
She is working on the first of several shamanic books where she will be sharing what teachings she was given by Serge "RunningWolf" Martel.
Resources: